In this post, I'm going to share what I learned while choosing my CAM Superline car hauler trailer, and a Reese weight distributing hitch with sway control. I pull it all with a 2008 Cadillac Escalade ESV. I'll go into why I bought what I bought in this article (and show it all to you in the accompanying video). So read on if you need help deciding if you want a big beefy tow rig, a car hauler trailer, do you need a beaver tail? What' IS a beaver tail? Weight distributing hitch or not? I'm going to touch on it all in this post.
So stop me when you've heard this one… You've just finished an awesome day on the trails, you wheeled hard, but your Rig held together. You're looking over things in the parking lot, and everything passes a visual inspection. You were hearing that clunk on the way back to the trailhead, but you're sure that was nothing.. Right? Nothing, just something rolling around in the cargo area, or maybe something just a little loose underneath, or maybe your imagination… Or maybe you've broken a stub-shaft and all that's holding your front wheel on is the unit bearing, ready to fly apart from the stress that it's not supposed to be under…
Or maybe you just have a show car, that isn't legal to drive on the road, or maybe you just feel better about not depending on your rig to get you 3000 miles across the country. There are a ton of reasons that you might want to trailer your project around instead of driving it. Well this post (and video) are meant to help uncover some of the caveats that I ran into while picking my own tow rig, and car hauler trailer for my 2005 Jeep Wrangler Unlimited.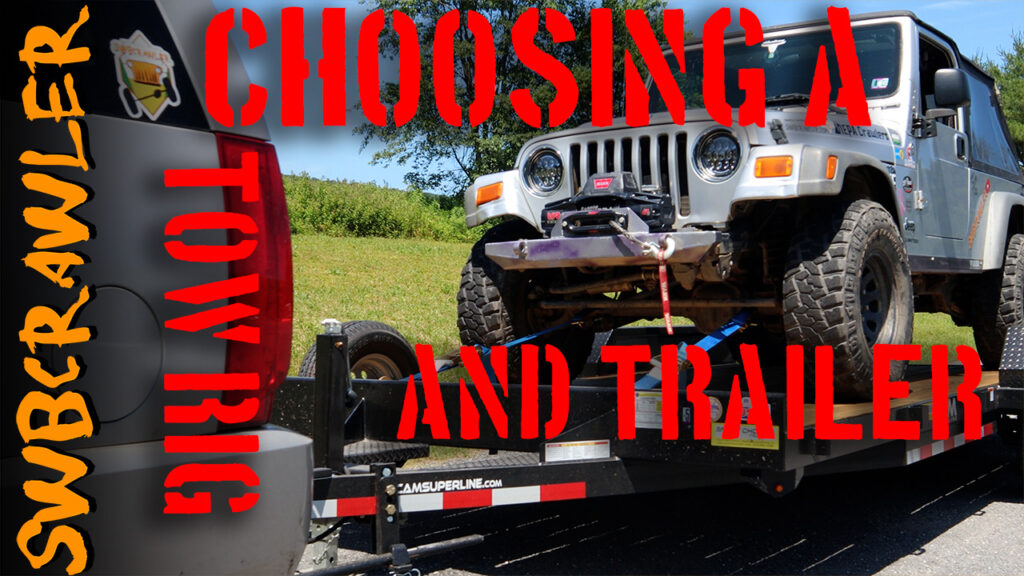 Question Number 1: What are you towing?
Yes, this article is focused on my journey in choosing a towing setup for a Jeep Wrangler. You may be here because you're looking to tow an ATV, or a Classic car or something. Your choices may be different than mine. My goal though, is to show you the process, so You can plug in your own information.
The most important place to start is to figure out how much what you're towing weighs. Then figure out the best way to tow it. In my case I had two major goals.
I need to haul a 4000lb vehicle around.
I need to do it in a way that said vehicle doesn't need to be mobile on its own.
If you goal is to tow a 4-wheeler, you can probably get away with a utility trailer, behind your sedan. Or a small pickup truck with a bed large enough to fit the quad. If you're towing a UTV you'll need something a little larger, but still not crazy. A classic car, or modified off-road vehicle? You'll probably need a larger trailer and a decently sized tow rig.
Question Number 2: What sort of equipment do you need?
OK! So you've hopefully figured out what you're towing, what size transport it needs, and how much it weighs. If you just need a pickup truck at this point, you're sort of done! Go find a pickup with a hauling capacity high enough to haul your ATV, done. If you've decided that you do need a trailer, then keep reading.
I needed a trailer. A jeep is too large to haul on the bed of anything that I'd reasonably expect to own. Sure you can get a flatbed, heck I once saw a guy bring a Jeep YJ to the trail IN a dumpster on the back of one of those dumpster hauler trucks. Let's face it though, most people aren't going to do that.
If you need a trailer, start looking for one that has a minimum capacity of at least what you're towing. I'd suggest going higher. Because you just never know what the future might hold. I set my sights on a 7000lb capacity, mainly because that seems to be the minimum on most car hauler trailers I found, AND its plenty of headroom for my Jeep LJ.
Question Number 3: What sort of Trailer features do you want
Do you want an open hauler? Or an enclosed box? Do you want a beaver tail? Do you want fancy hydraulic ramps? These are all things you'll need to think about before buying your trailer, because they'll all affect weight. A lighter trailer, and maybe you can get away with a lighter tow rig. A heavier trailer and maybe that mid-sized pickup you had your eye on wont be up to the job. I ended up with an 18′ beaver tail open car hauler trailer. It's title says it weighs 2000lbs. I'm guessing that's a rounded estimate, and it weights close to 2000lbs, but that's close enough.
Now You don't need to go out and buy a trailer at this point, you just need an idea what the trailer you want is going to weigh. After all, how would you get it home if you put the trailer before the horse? Now, we can finally figure out the big question…
Question Number 4: What sort of tow rig do you need?
So now we know what we're towing, and how we want to tow it. This informs the big question. What kind of tow rig do we want? First this gives us the rolling weight we need to pull. Second it tells us what our tow rig needs to be capable of as far as hook-up and hitch are concerned. Do you need a trailer brake controller? 4-pin connector or 7? 2″ receiver?
For most vehicles, you can buy aftermarket kits to set them up for whatever you need, but it sure is convenient if it came off the lot with everything you need. If you're buying a trailer with trailer brakes, you'll need a trailer brake controller. I ended up buying the Tekonsha Prodigy P2. Some vehicles come with these, others at least come with wiring.
Next you'd need to decide what your requirements are. Do you need more room for cargo, or passengers? Do you need a basic pickup, or a large SUV? Can you get by with a smaller more efficient vehicle? Or maybe you might want to consider a Diesel engine vs a Gasoline engine.
Personally, I bought a 2008 Cadillac Escalade ESV. This is the suburban sized Escalade. It came with around 100K miles on it, and I've had an issue or two with it. So its up to you to choose the price point that works for you. Personally, I could not justify the cost of a new full size SUV, as most of these are high-end luxury vehicles, not stripped down Utility vehicles. The Cadillac came with a slightly larger engine than the Chevy or GMC alternatives, and along with that engine came about 600lbs more towing capacity.
Which brings up another question, diesel or gasoline? I can say that I really wanted a Diesel, but the cost and added complexity in my life didn't seem worth it right now. Modern diesels also require DEF, which is another thing to keep track of. Diesel is much more expensive right now, and its not as common in my area. I could certainly run a diesel, and if you choose to I don't think you'll regret it. They are so much better suited for towing. In my case, I decided to with a gasoline engine for now. I may change that in the future, when my requirements change as the kids grow older.
Question Number 5: Weight Distribution Hitch? Or no?
What is a weight distribution hitch? Well, just as the name implies, it's a hitch that helps distribute the weight between the trailer and the frame of your vehicle. It does this with the use of torsion bars that connect to the hitch, and extend back to the tongue of the trailer. Some of these also include sway control measures, which help prevent your trailer from getting into a sway that could lead to an accident.
In some cases your vehicle manufacturer will suggest or require the use of a weight distribution hitch in order to tow above a certain capacity. In my case, that limit is 5000 lbs, so I bought a Reese weight distributing hitch with sway control go with my trailer.
Some things to consider
Owning a trailer also comes with some additional responsibility. You need to maintain a registration, inspection, and of course keep your trailer well maintained to keep it safe! You may also want to consider insurance for your trailer. In my state, and with my Insurance provider, the liability coverage of the vehicle towing the trailer, extends to cover the trailer. But that does not cover things like theft. A trailer is an investment, so check on what you are required to have, and then add on whatever seems like the best option for your situation.
Happy Trailering!
I hope you've found this post, and the video that accompanies it, informative, please reach out if you feel I have missed anything. And please check out this video I've made on this topic. Thanks!